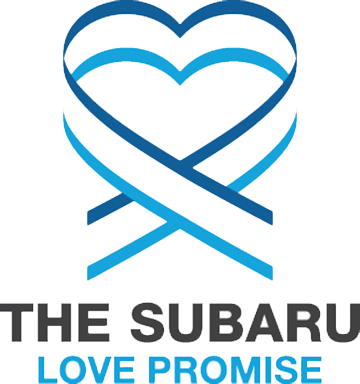 What is the Subaru Love Promise?
Subaru and our retailers believe in making the world a better place and the Subaru Love Promise is our vision of respecting all people. This is our commitment to show love and respect to our customers and to work to make a positive impact in the world.
How is Gurley Leep Subaru dedicated locally to the Love Promise?
Gurley Leep Automotive Group in Mishawaka, IN treats the needs of each individual customer with paramount concern. We know that you have high expectations, and as a car dealer we enjoy the challenge of meeting and exceeding those standards each and every time. Allow us to demonstrate our commitment to excellence!
Boys & Girls Club, South Bend Community Schools, Penn Harris Madison Art Prog, Michana Catholic Schools Art, Big Brothers Big Sisters
Meals on Wheels, South Bend Woman's Care Center, Kelly Cares Foundation, Hannah's House, AARC
Coaches vs. Cancer, Reins of Life, Logan Center, Susan G. Komen, Ronald McDonald House
Love Promise Stories from Gurley Leep Subaru
Subaru and Gurley Leep Subaru believe in making a positive impact on the communities in which we live and work. We uphold that belief through our Love Promise Community Commitment. Every month, we select inspiring stories from customers and partners from around our area who strive to support our collective commitment and feature them here
Giving Back... - Aaron C
Gurley Leep Subaru is committed to giving back to the local community, and they showed this in a big way on Wednesday, September 16. Three staff members visited Ronald McDonald House Charities of Michiana to take the Coffee Cart over to Beacon Children's Hospital in South Bend, Indiana. This small act of kindness makes such a difference in the lives of kids and families who are going through their most difficult moments. Gurley Leep Subaru and RMHC Michiana have formed a strong community partnership that supports the mission of RMHC Michiana – to keep families close in their time of need. Gurley Leep has been a loyal sponsor for RMHC Michiana, including providing the sponsorship for the charity's therapy dog program and their House dog, Gus. Partnerships like this help those who are most in need, and they strengthen the fiber of local communities. RMHC Michiana is so grateful for the support from Gurley Leep Subaru and for their continued partnership.
---
Gurley Leep Subaru Shares the Love... - Nancy S
Since 2015, the Subaru Share the Love campaign has donated $147,403 to Ronald McDonald House Charities of Michiana, which has translated to more than 1,000 overnight stays and accommodations for local Michiana families in their time of greatest need. When a family checks into RMHC Michiana, they are stepping into a home-away-from-home for the duration of their ill or injured child's hospital stay. Families are provided with hot meals, private overnight rooms, basic toiletries, and all the comforts of home – at no charge. Below is the story of one family's experience, which mirrors so many: In late 2019, a family whose teenage daughter attempted suicide checked in to RMHC Michiana, unsure of what journey they were about to take. They spent almost two weeks here and received an outpouring of support from far and wide as friends and family members took turns caring for the family's two other children, including 9-year-old Hayden. Hayden's mom reached out to us to see if there was anything he could do around the House to keep him busy while some tough decisions needed to be made regarding his sister's prognosis at the hospital. He came to help at the annual Cookie Walk and made quite the impact, jumping right in to restock cookie trays, put away donations, take photos, and walk guests through the process. It was a great day for him and the staff a like. A few days later, his sister passed away and the family came to the House one last time to gather their things and check out. On her way out, Hayden's mom shared the following: "As horrible as this experience has been, RMHC was a saving grace for Hayden. Now, instead of looking back at this time as the day his life was ruined and he lost his sister, I hope he looks back and sees the good that came from his stay here. I hope he sees this as the moment his passion for volunteering grew, and I hope he chooses to continue to give back." While every story isn't a happy ending, the glimmers of hope that come from the services provided thanks to the support of community partnerships allows RMHC Michiana to fulfill its mission of Keeping Families Close, providing a safe haven in even the darkest of times.
---
Subaru in Action - Judy J
These past 3 years the Subaru has filled many roles for REAL Services. From delivering Meals on Wheels, transporting clients to essential appointments, to delivering a donation of flowers to a nursing facility. The Subaru always puts a smile on the faces of our clients. We are grateful for the support of the Subaru Corporation and to Gurley Leep Subaru in Mishawaka, Indiana.
---
Subaru On The Job! - Judy J
Our Subaru is on the job every day delivering Meals on Wheels to Senior Citizens. Often our staff or Volunteers are the only people our Seniors ever see. Margaret our Volunteer Coordinator drives the Subaru every weekday. We will miss Margaret when she retires at the end of the month.
---
Subaru Loves to Care - Holly D
On July 23, The Leukemia & Lymphoma Society, Indiana Chapter and Gurley Leep Subaru had the pleasure of delivering 80 blankets and 10 arts & craft kits to Memorial Hospital South Bend part of the Subaru Loves To Care program. These comforting gifts were accompanied by personalized messages of hope written by the customers and staff of Gurley Leep Subaru. This incredible act of generosity was warmly received by the Memorial Hospital staff who were thrilled to distribute these comforting gifts to their patients.LLS is proud to partner with Subaru to spread hope, love and warmth to those fighting cancer, across the country and right here in the South Bend, IN community.
---
My Meals are Delivered in a Subaru - Judy J
Iv'e been getting meals for 10 years and it definitely helps me. Well, it provides me a big need and because I'm in advanced years I'm not able to cook for myself and yet I like the variety and the necessities I get from Meals on Wheels.It's a good organization. Because it save me a great deal, I can't do my shopping, so my friends do it and with Meals on Wheels I'm getting some of the necessary things without going to the store. Becky Unverrich
---
Sharing love & warmth through messages & blankets - Alison S
Becky, a child life specialist at Beacon Children's Hospital, welcomed us at the special door connecting the parking lot with the Pediatric Hematology/Oncology Clinic. She apologized for not having any patients for Gurley Leep staff to be able to visit with and personally give a blanket to, but said, "not having patients – that's a good thing, right?" Agreed! General Manager Mark Simpson brought a carload full of Gurley Leep colleagues with him, including Robert Russell, who was no stranger to this clinic. "My son was diagnosed with ALL when he was 3 years old," Robert shared. "He's 11 now. He went through his three years of treatment here." Becky gave us a tour of the clinic, newly remodeled as of a year ago, and their care and attention to what patients and their family members might need and want during their stay. This ranged from a room in which family members could be treated simultaneously, to a teen room with a giant flat screen TV, to a comfortable loveseat that easily transformed into a single bed for caregivers to nap on. Robert thought that was a definite improvement: "That looks more comfortable than the chair I used to sit in!" Mark shared why participating in Subaru Loves to Care was so important for his team, and indeed, that supporting their community in many ways was key to their mission. When he learned earlier this spring that Becky's patients really loved the craft kits from last year, he promptly made arrangements to order more for this year. Thank you to Mark Simpson and the rest of the Gurley Leep team for sharing your love and care with cancer patients at Beacon Children's Hospital with your gifts of blankets, craft kits, and messages of hope!
---
Delivering Meals on Wheels in Our Subaru! - Judy J
Judith gets up at 7:00 am. She is 74, retired, feisty, independent, and coming back from a devastating stroke.As we talked, I heard frustration and anger in her voice. She is left handed and that is the side that was affected by the stroke. But she states she is a fighter and the people at the hospital and at rehab told her that is why she is alive and has made good progress. Judith was born in Mishawaka, attended Mishawaka High School, and as a child she had good handwriting. She would be asked to write on the chalk board to display her handwriting and other times her writing examples might be posted around the room. She took pride her handwriting. Now she states "you can't even read it", but I sign my checks myself.Judith was a waitress for 42 years and later in life found a job as a care giver at a local nursing home. As she puts it "I found a job I loved. I love people and I took good care of them and got to know the families really well and they appreciated me." But when you work at a nursing home, you come to understand that many of the clients won't be around long. Being willing to lose people you have started to care about, well it takes a toll. After a client who was special to Judith's heart passed away while she was on her day off, she felt she couldn't do it any longer. Judith had shoulder surgery and rehab and both went fine, everyone thought. She was leaving rehab in a wheelchair and at the pick-up door, when she had a stroke that involved multiple clots.She was rushed via helicopter to Chicago. She survived but couldn't talk, walk, or use her left hand. She came to St. Joseph Rehab Institute in Mishawaka and learned to overcome almost all of what the stroke took away. She talks clearly, can walk in her small apartment without her walker and a little farther with the walker though not far. Her left hand was originally in a claw position, but is now open and can flex though it has no sense of feeling. Cooking became frustrating and almost impossible. Her doctor prescribed Meals on Wheels for Judith. "It makes all the difference. I am medium height and very slender, without Meals on Wheels, I would be even more slender" she chuckles. Her favorite food from MOW is stuffed peppers, with spaghetti being "delicious". Her least favorite food from MOW is any meat she has to cut up. (Her left hand doesn't work for cutting with a knife and tough meat doesn't work well with her dentures.)Judith loves when the delivery volunteers bring her a little note, like a valentine card with the meal. When they ask her if she is okay AND does she want a hug the answer will almost always be YES. "There is a person who is disabled and in a wheelchair who delivers MOW to me" said Judith, "I always get a large smile and we share a big hug." Judith asked me about a taller man and a woman who delivered for MOW together that she hasn't seen in a while. "I wish I knew what happened to them" she states. Seems she lost a couple other people who became close to her heart.
---
Lifesaving Delivery! - Judy J
A volunteer went to a client's house with the instructions to take meal to back door and put on counter in kitchen.The door was locked. The volunteer knocked and could hear someone in there. The client told volunteer to get the key from someplace on the back porch.The volunteer went in and the client was on the floor.The power went out from a storm and she tripped over her walker going to the bathroom in the dark.She said she was there for at least a day and night.The volunteer called 911 and the fire department came and helped her.
---
Our Subaru Vehicle Transports Life Savers - Judy J
A volunteer went to a client's house with the instructions to take a meal to the back door and put it on the counter in the kitchen.The door was locked. The volunteer knocked and could hear someone was in there. The client told the volunteer to get the key from someplace on the back porch.The volunteer went in and the client was on the floor.The power went out from a storm and she tripped over her walker going to the bathroom in the dark.She said she was there for at least a day and night.The volunteer called 911 and the fire department came and helped her.
---